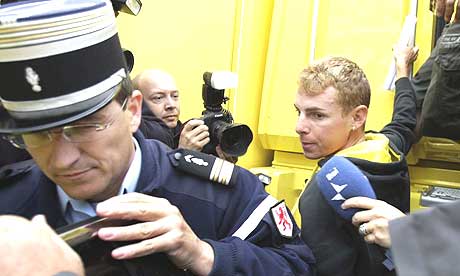 This morning I opened
cyclingnews
for the daily information on whats going on in our little world of cycling. As the Tour goes by though controversy seems to be getting worse and worse. The ASO stating that this would be the unavailing of the new Tour seems ill founded. The last six days have seen three positive doping results popping up. Rasmus Damsgaard was is the team doctor behind CSC's success and this morning I
read
of his dispair at the inificiency of the doping controls being done on this years Tour. He reckons that were the controls up to scratch and they tested every rider in the peleton today for EPO we would see twenty riders being thrown out. So is this decision of the ASO to hold the race outside of the UCI have anything to do with them trying to control the test results? I can't say that I have been suprised by the positive results, what I don't understand is why there aren't tougher measures against the offenders.
Firstly the team should be excluded from the race or even any other races for the season. I feel that the riders should not be held soley responsible becasue if the team had had their inteam testing in order then these riders would be picked up before the controllers come along. Secondly the rider should be banned from the sport for life. Why such a tough sentence? Well the damage being done is madness at the moment, sponsors are shying away from our tainted sport that we love and follow with such passion. Now with this Tour quickly decending into the same cesspool of drug related news. We see our sport coming into the news for all the wrong reasons and it is sad. A transition in the sport? I don't think so. This is here to stay unless there are stronger regulations.
As Paul Liggett said at the start: "Ricco is an idiot"